10 Filmmaker Apps You Need to Have
Share this article:

App Creators have Tapped into the Production Industry to Provide Must Have Filmmaker Apps for your Everyday Set Needs:
Smart Phones have become an every day necessity on set these days. Let's be honest, in this field we are obsessed with amazing cameras, new lighting technologies and sound equipment that would blow your mind. Why would we settle for less with our cell phones or tablets? App Creators and Industry professionals have teamed up to create an entire line of phone apps for filmmakers today. Everyone wants to be the one to pull out the newest app on set and really impress the crew. Whether you are a PA that needs to organize their releases, an AC that wants to make sure their GoPro was rigged up properly, or a Director that wants to get their shot list together, you're going to want to get in on these apps stat!
1. Digital PA (Apple)
How many times has a release inexplicably disappeared between the time you got the signature and when you walked through the PO door? That was only 12 steps, how could it have disappeared?! Those days are over my friends. Get this app and you can organize releases in a way that will make your Coordinators head explode.
2. Sun Seeker/Sun Droid
Sun Seeker (Apple) is an app that will help you locate the sun and show you the solar path hour by hour. With over 40,000 locations to choose from on this app, you will be able to pinpoint your perfect shot in any set location in the world.
Sun Droid (Google) is very similar to the Sun Seeker app, but is exclusive for Droid phones. It will help you pinpoint sunrise and sunset times, length of day, and show you the path of the sun, moon or any planet through the sky.
3. Kodak Cinema Tools (Apple/Google)
This app has something for everyone. With it's Sunrise/Sunset calculator, you can get that perfect aesthetic shot. Take the guesswork out of the equation with the Depth of Field Calculator. What's the TRT? Just enter in the specifics and the app calculates for you. What's a vectorscope? Learn your filmmaker lingo with the apps glossary of terms.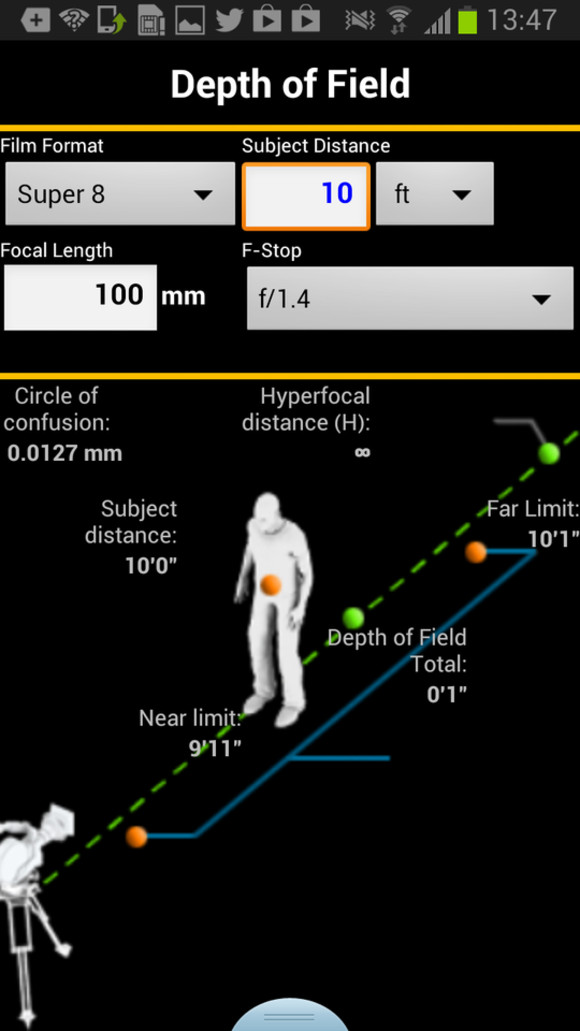 4. GoPro App (Apple/Google)
Filming some B-Roll around town? Want to make sure your shot looks good? Well, unless you're on the roof with the GoPro, you should probably get this app. This app gives you remote control of all the camera functions. You can take a photo, start/stop recording, adjust settings, see what the camera sees with live preview, playback photos and videos, and share your favorites via email or social media... all from your phone!
5. Cinema Forms (Apple)
An Assistant Director and Production Coordinators dream. This app comes with 13 essential forms, with 90 more to choose from in the library. In your hand you have the ability to create and organize call sheets, shot logs, various release forms, location forms, contact sheets and more! You can also save these forms as PDF and share them via Dropbox. With the AirPrint feature, you can even print these forms from your iPad!
6. Shot Designer (Apple/Google)
With this app you can create a full blown camera diagram in seconds. You can see how a scene will play out, and show the crew with the animation feature. While you are creating these diagrams, the shot list is auto-creating! The Directors Viewfinder integration allows you to bring in lens-accurate camera angles. The app comes with a MAC/PC version so you can see your work on your computer when you get home from set. This app brings Shot Lists, Camera Diagrams and Storyboards together so you have a comprehensive view of what your production is going to look like, not just in your minds eye but on your phone for everyone to view.
7. Wrap Time (Apple)
How many times have you started filling out your time card and not only do you not remember what your call time was two days ago, you're having a hard time remembering what today is? That's what happens when you work 14 hour shifts for 13 days straight! This app allows you the ability to input your call time, meal time and wrap time as you go, making filling out your time card that much faster and easier. The program will calculate your pay, meal penalties or overtime depending on the work information you input. There are even capabilities to input Grace Periods, Kit Rentals and Second Meals!
9. Movie Slate (Apple)
Lost your dry erase marker or clapper board? You know what, throw the whole slate out altogether, because with this app you will no longer need it! Movie Slate is an AC's best friend. You can log footage, take notes as you shoot, set timecode and even sync timecode wirelessly to compatible cameras, sound recorders and LTC generators!
Movie Slate also has optional in-app plugins:
MultiCamera Plugin - With this optional in-app purchase, you can log data and shot notes for up to 26 cameras!
Sound Plugin - Sound Mixers can log all sound department meta data and quickly generate Sound Reports with this optional in-app purchase.
The days of putting your phone away on set are long gone. These apps are amazing investments that will not only make your day easier, but will totally impress your supervisor. If you like this list, stay tuned for Round 2! Know of any amazing apps that we missed? Feel free to comment below with your personal favorite filmmaker apps.
---
DID WE MISS ANY? WHAT ARE APPS MUST YOU HAVE ON SET? LEAVE THEM IN THE COMMENTS BELOW!
---
More Great Articles
"After wrapping a seven-week long production overseas, I was ready to get back in the saddle again.  Thanks to Staff Me Up and its job board, I got another long term gig, locally, which is something my wife is happy about.  I get to work and I get to be close to home.  If you're a freelancer in pr ...MORE...

oduction, Staff Me Up is essential and instrumental in finding diverse job opportunities in the biz.

"
"Thanks to Staff Me Up, I got a great Camera Operator position for a company that I will be working for again. The crew was great, the camera operation was good and enjoyable, and the job was a pleasure. Staff Me Up is great with those notifications. Much obliged, guys! Keep it up and helping out the ...MORE...

film community. We are grateful!

"
Andrew Scott got hired on SMU as a Production Assistant for Joke Productions.
"As with many experiences I've had previously with Staff Me Up, I was impressed with how quickly and efficiently I was able to secure a job opportunity through the website.

After submitting my application for a job posting, I was contacted within 48 hours by the employer that he was interested in ...MORE...hiring me. Following a brief conversation about pay rate and job expectations, I was hired!!!

I've been using Staff Me Up to find employment in the film/tv industry for over two years now, and it continues to be a valuable resource to me as a freelance professional. While I have now built up enough of a resume/network to only occasionally require the use of the website, I know that if I ever need to find a job quickly, I can rely on StaffMeUp to be the reliable tool I need!

I continue to recommend StaffMeUp to both job posters seeking reliable staff members as well as my peers seeking work with a reliable job posting website."