8 Interview Tips for the TV & Film Industry
Share this article:
So we asked our Facebook followers for good interview tips for the TV & Film Industry. We all know that things are a little different in this line of work, and that includes interview do's and don'ts. Some of the responses we got were very insightful, while some were flat our hilarious. Here is our list of useful interview tips... with some not so useful, yet funny tips mixed in! You never know when the off the wall tips might actually come in handy.
1) Remember that you don't know everything.
"Fake it 'til you make it" can only take you so far. Sometimes being humble can take you a long way. Be honest, be yourself, tell the truth, and remember you don't know everything. Know that these are jobs where there is always something to learn.

2) Stand out from the crowd.
There's a whole bunch of other people that want that job, make yourself stand out from the other applicants by bringing up your relevant work experience and proving to them that you will be a integral​ part of their TEAM.

3) Make eye contact. Then wink.
No, but seriously, don't wink. Just be sure to make eye contact and stay engaged!

4) Don't sell yourself short
Remember you're being interviewed because there's a chance they need you. Be the product they're shopping for - someone who knows what they are doing. Yes, you need a job. You also know what you're worth. BE CONFIDENT, but not cocky.

5) Smile.
It doesn't have to be a perfect smile, but let it be known that you can be a warm and happy person!
6) Familiarize yourself with the production company's previous projects.
Ever interviewed for a show you've never seen? It doesn't bode well for you to start off the interview saying "Oh yeah I don't watch TV. I've never even heard of that show."

7) Zip your fly!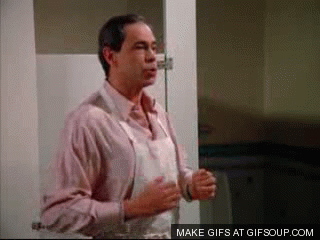 (this comes directly from employers experience) The interviewer needs to get to know you... but they don't need to know THAT much.

8) Don't wear flip flops.
Dress for success from head to toe.

---
What other interview tips can you think of for the industry?
Or better yet, what weird things have you seen during an interview that totally cost that person the job?
Comment below!
More Great Articles
Andrew Scott got hired on SMU as a Production Assistant for Joke Productions.
"As with many experiences I've had previously with Staff Me Up, I was impressed with how quickly and efficiently I was able to secure a job opportunity through the website.

After submitting my application for a job posting, I was contacted within 48 hours by the employer that he was interested in ...MORE...hiring me. Following a brief conversation about pay rate and job expectations, I was hired!!!

I've been using Staff Me Up to find employment in the film/tv industry for over two years now, and it continues to be a valuable resource to me as a freelance professional. While I have now built up enough of a resume/network to only occasionally require the use of the website, I know that if I ever need to find a job quickly, I can rely on StaffMeUp to be the reliable tool I need!

I continue to recommend StaffMeUp to both job posters seeking reliable staff members as well as my peers seeking work with a reliable job posting website."
"I was hired for Makeup Artist & Hair Stylist for a Doc/Reality Show on Lifetime. I was contacted by one of the Production Coordinators within a few hours and as I never been hired via SMU I was very happy, as I'm trying out premium the second time and it did pay off in less than 2 months. The produc ...MORE...

tion team I am with in Boston are all so lovely, so SMU does work to get you on some cool jobs. Don't give up if you're not receiving any response. Be positive & determined and I'm sure the right job will come soon!

"
Sev DeMyers got hired on SMU as a Producer for Painless TV.
"I was hired as a Producer at Painless Tv for a paranormal show. I'm very excited as it is  a new genre for me. Staff Me Up was a smooth experience as I was able to apply and receive text updates on the status of my application. I actually upgraded my account before the job hunt and I believe that ...MORE...

made a huge difference.

"