8 Interview Tips for the TV & Film Industry
So we asked our Facebook followers for good interview tips for the TV & Film Industry. We all know that things are a little different in this line of work, and that includes interview do's and don'ts. Some of the responses we got were very insightful, while some were flat our hilarious. Here is our list of useful interview tips... with some not so useful, yet funny tips mixed in! You never know when the off the wall tips might actually come in handy.
1) Remember that you don't know everything.
"Fake it 'til you make it" can only take you so far. Sometimes being humble can take you a long way. Be honest, be yourself, tell the truth, and remember you don't know everything. Know that these are jobs where there is always something to learn.

2) Stand out from the crowd.
There's a whole bunch of other people that want that job, make yourself stand out from the other applicants by bringing up your relevant work experience and proving to them that you will be a integral​ part of their TEAM.

3) Make eye contact. Then wink.
No, but seriously, don't wink. Just be sure to make eye contact and stay engaged!

4) Don't sell yourself short
Remember you're being interviewed because there's a chance they need you. Be the product they're shopping for - someone who knows what they are doing. Yes, you need a job. You also know what you're worth. BE CONFIDENT, but not cocky.

5) Smile.
It doesn't have to be a perfect smile, but let it be known that you can be a warm and happy person!
6) Familiarize yourself with the production company's previous projects.
Ever interviewed for a show you've never seen? It doesn't bode well for you to start off the interview saying "Oh yeah I don't watch TV. I've never even heard of that show."

7) Zip your fly!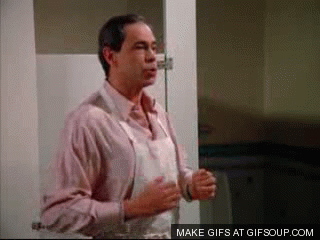 (this comes directly from employers experience) The interviewer needs to get to know you... but they don't need to know THAT much.

8) Don't wear flip flops.
Dress for success from head to toe.

---
More Great Articles
Jared Lemon got hired on SMU as a Production Assistant for Dance Nation Productions.
"Staff Me Up has been the defining service in taking my work from infrequent and strictly referral-based to flourishing. Because of the connections and gigs I've found through this service, I've been booked solid for almost three months straight. This is a wonderful service, and it more than pays its ...MORE...

elf off in no time flat.

"
"Staff Me Up is fantastic. I was notified of the job posting, applied to the job in minutes because of pre-saved cover letters/resume. I received a text about the job about a week later, we talked details over the phone and boom! Got the gig. Staff Me Up is worth every penny."
"Staff Me Up has been my number one and only resource for finding work. I really like how I can upload a resume, attach a cover letter, promote my applications with tokens, and I couldn't live without the alerts I receive when a new job is posted. I have gotten many jobs from this website and witho ...MORE...

ut it, I don't know what else I would do.

"